Embed Metalship banners on your site
Do you enjoy Metalship ?
Help us to make it famous by adding a banner or even just a link to Metalship on your site, forum, myspace, blog etc.
Submit a link
- Metalship banner 468x60 :
Code :
- Metalship banner 120x60 :
Code :
- Metalship custom banner :
Code :
You can add a link to your personal page, with a banner automatically personalized with your name, by replacing XXXXXXXXXXXXXX by your username (the url of your username, if you know it), and YYYYYYYYYYYYYYYY by the short text you want to put on the banner.
Become a partner
Metalship proposes several partnerships, in particular for concerts and links exchange, but we are open to any other proposition (contact me at com[at]metalship.org).
Our usual partnerships :
Submit a link to the directory
Banners and logos for all the sites related to Metalship
Metalship
Metalship banners
- 468x60
- 260x60, for advertising your personal space
Metalship logos
- the official logo, for flyers :

1418x430
- (Metalship official logo) :

800x800
400x400
200x200
145x145
Metalship small banners
- 120x90
- 120x60
ConcertMetal.com
ConcertMetal.com banners
- 468x127
Code :
- 468x60
Code :
ConcertMetal.com small banners
- 120x90
- 120x60
Code :
ConcertMetal.com logos
- 200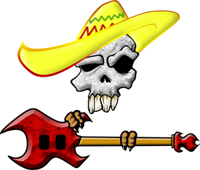 Forum-Metal.com
Forum-Metal.com banners
- 600x150 :
Code :
- 468x60 :
Code :
Forum-Metal.com small banners
- 120x90
- 120x60
Code :
Forum-Metal.com logos
- 800x800 (click on the picture) :