Interviews
::
Interview with Incantation
Interview with Incantation
Incantation
, legendary Death Metal Masters, explains a lot of things about his new album "Vanquish in Vengence".
Metalship : « Vanquish in Vengeance » will be release 6 years after "Primordial Domination". Why do you take this long time between these two records?
We did a lot of touring for the last one.In fact for about 5 years throughout the world. But we were not inspired to write another record until Kyle came back to the band.It was about a year ago that we really started to collaborate our ideas together. We will not do something unless we know it is genuine. I am happy to say we will be doing another new record next year.We already have about half of the next one written so there is great vibes in the band right now.
Metalship :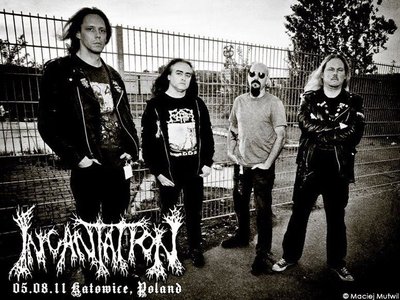 You have chosen to release a concept-album. How did you have this idea? Are you passionate by History?
It is not a concept record but some of the lyrics do tie into each other.
Yes
very much into history.
Metalship : All the tracks of "Vanquish in Vengeance" are killers. It seems that any details, any parts, any effects have enjoyed special attention. Could you tell us a little more about the composition work?
The record was mostly recorded live so it is really primitive. And not much done to it. Except for bringing out certain things in the mix etc.. What you hear is what was played in the studio. Except for vocals and leads. This is the real thing. A real band playing!
Metalship : John is now the singer since 3 albums. His vocals are very strong. Is it natural for him to be the frontman of Incantation?
? I think he is a great frontman. Over the years he has gotten better and better. I think on this record this is his best performance. A lot of emotion in his vocals.
Metalship :
Incantation is an old Death Metal band. How does it feel to be still alive? Isn't it too difficult to continue this kind of music? Do you live thanks to your music? Do you have a definition of what Death Metal has to be? What do you think about the extreme metal scene today?
It is our Will and we must create. It is who we are. Death Metal is what we are as people if that makes any sense. It is pure darkness!
Metalship : Do you have planned to destroy audiences through the world? Will you tour in the future? Any dates in France?
No plans yet but I am sure will be touring in 2013 and I am sure will be going to France.
Metalship :
« Vanquish in Vengeance » is the third album to get out on Listenable Records. How is your relation with the label?
We have a great relationship with Listenable. It is really nice and rare to have a label that really believes in what you do. I could not be happier.
Metalship : The sound of your new album is amazing, perhaps the best of your career. How much time did you past in studio? Dan Swano has made the mix. Do you enjoy his work? Is he a good friend of Incantation?
Dan Swano has made the mix. Do you enjoy his work? Is he a good friend of
Incantation
? Not much time in the studio. Like I said most of it was done live so it was done more like a record would be recorded in the 60'2 or 70's. It was done very quickly! I think Dan did a superb job and we look forward to working with
him
on the next album.
Metalship : Incantation is able to offer very heavy music, with a lot of atmospheres. In "Vanquish of Vengeance", we can feel the death and violence all around. How have you done to create these unique atmospheres? What do you think about extreme bands, who privilege the technical side?
Speaking for myself that was what I was feeling when I wrote the riffs that I contributed to the album. That emotion went into the music. I think speaking for any real artist it is how we communicate. We never think of things in technical terms only about feelings we are trying to get across. I think the bands you are speaking of are more of a talent show or show off bands. I could not be concerned about that kind of thing. I want to create real art and express myself not say hey look at what I can do. I think what we do we take very serious. Its our life.
Metalship : The concept of "Vanquish of Vengeance" is about heathen's massacre by Charlemagne. I know your aversion about Christianity. But I have a question: are you heathen, atheist or maybe agnostic (or anything else)? What is your point of view about religions?
None of the above. I do not believe in any religion only myself.
Metalship : I let you the last words…
Thanks you for the interview and thanks to all the fans for all there support see you on tour..

added by Shamash, on December 3, 2012 for Metalship


(0)