Concerts
::
Helmet, Fighting With Wire on stage in Paris, Nouveau Casino on 03/30/2012
Concert
Helmet, Fighting With Wire on stage in Paris, Nouveau Casino on 03/30/2012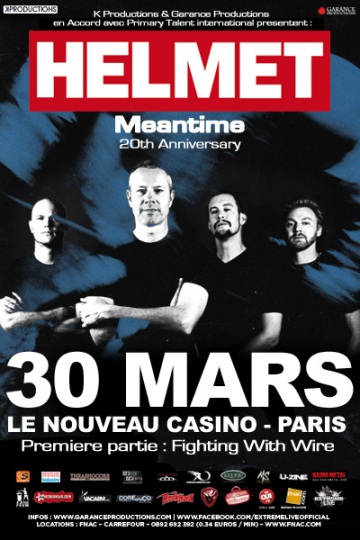 added by
monceau
, on March 13, 2012
Edit the article :
GaranceProd/ExtremeLive presents
Helmet
[Metal Progressif]
Fighting With Wire
25 euros
Friday, March 30, 2012
19:00
---
Nouveau Casino
109 rue Oberkampf

75011
-
Paris
HELMET
fait partie de ces groupes de rock dur que l'on peut attendre toute une vie sans les voir évoluer sur leur terrain de prédilection qu'est la scène, car rares sont les venues sur le sol Français de ce colosse mythique de la scène Noise Hardcore Metal New Yorkaise...
Sous la houlette de son immense guitariste / chanteur Page Hamilton, le groupe vous prépare un concert indéniablement pas comme les autres, un set hors du temps puisque ce sera dans le cadre d'une tournée de célébration des 20 ans du chef d'œuvre « Meantime » paru en 1992 et qui reste et restera un album incontournable du Rock. Cet album, vendu à 2 millions d'exemplaires dans le monde entier et qui a marqué des générations entières de Rockeurs et Métaleux sera pour l'occasion interprété dans son intégralité !!
Les New Yorkais fournissent une alternative aux groupes Grunge sortant des Etats-Unis à l'époque, et se sont révélés au grand public Européen lors d'apparitions remarquées sur les BO de The Crow (clip officiel du film), Beavis & Butthead ou The Judgement Night...
HELMET
, ce sont 22 ans de carrière et des centaines de concerts dans le monde entier, des d'albums tels que « Meantime », « Betty », « Aftertaste » et le dernier « Seeing eye dog » ...
Laissez-vous kidnapper par l'un des groupes fondateurs du Rock/métal et venez souffler les bougies avec nous en venant célébrer « Meantime » le 30 Mars 2012 au Nouveau Casino !
Les billets au format -chermaispas+joli :23€ >> A Jeter Prom, RnR Voltage; 30€ en "pack live" (billet + tee-shirt pef)
Nobody has added it to his calendar yet.
Add to your personal calendar